Who Has the More Dependable Sedan to Offer: The Hyundai Elantra or Subaru Impreza?

The Subaru and Hyundai brand often get equated to each other because of their overall safety, affordability, and long-term practicality. However, you might often find, then examining their vehicles under a critical lens, that there are highly noticeable differences in which brand is the better one for you in Florida. That is exactly what we did here at Lokey Subaru of Port Richey: we compiled some research and we would like to tell you a bit about our findings. So, let us see where the Subaru Impreza sedan stacks up against its top competitor from the Hyundai lineup: the all-new Hyundai Elantra. If this research convinces you of how much the Subaru Impreza can do for your needs, then you should test drive one here at our Port Richey Subaru dealership. Lokey Subaru of Port Richey is conveniently located.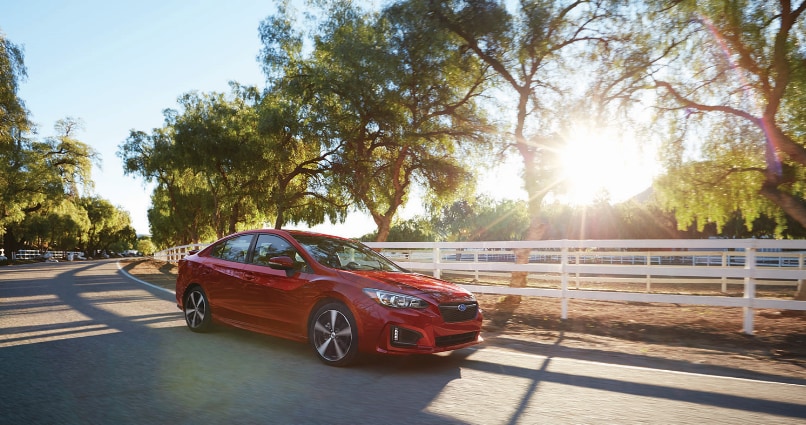 More Traction and Versatility Than Many Sedans
When it comes to powertrain, performance, and traction, you might not be disappointed with the new Subaru Impreza as this four-door sedan contributes robust powertrain and efficiency with its horizontally-opposed engine, which generates 152 horsepower and 145 maximum pound-feet of torque. The four-cylinder engine of the Elantra generates 147 horsepower and 132 pound-feet of torque, with a less responsive acceleration and powertrain. The all-new Subaru Impreza also comes standard with the Subaru Symmetrical All-Wheel Drive (AWD), which is a drive line that many sedans and hatchbacks do not provide. The Hyundai Elantra is one of those sedans and only comes available with front-wheel drive. When the rains start to fall heavily in Spring Hill, you might want a bit more traction control at your back in your next sedan.
A Spacious and Comfortable Commute!
The new Subaru Impreza comes available as a four-door sedan or a five-door hatchback. However, no matter which one you choose, you will find that they both have a great deal of comfort to offer for the daily commute to Brooksville with a total passenger volume of 112.1 cubic feet. This gives you, your copilot, and your backseat passengers a lot of head and leg room on any journey. While the Hyundai Elantra sedan offers more comparable cargo volume, it falls short in passenger volume with 95.8 total cubic feet and is lacking in leg room for both rows. The Hyundai Elantra also only offers a four-door sedan variant, whereas the Subaru Impreza offers a four-door sedan and a five-door hatchback model, should you require an expanded cargo area.
Come Test Drive One Today!
The new Subaru Impreza offers a bit more of a reliable drive when you need it most, over its Hyundai Elantra. If the all-new Impreza sounds like your next daily driver, then schedule a test drive and come see us here at Lokey Subaru of Port Richey. See you soon!